Jesus at the Center
It is by the name of Jesus Christ of Nazareth…Salvation is found in no one else, for there is no other name under heaven given to mankind by which we must be saved."

Acts 4:10,12 NIV
The reason our church exists is because of who Jesus is and what He has done for us. Because He lived the perfect life we could never live, and took the punishment for our sins when He died in our place, and rose again from the dead, we can become a new person, "born again", adopted into the family of God.
We want everyone to experience the life-transforming power of God's love, and that's why we reach out to our communities in every possible way and send missionaries all over the world.
Based on the Great Commandment (Matt. 22:37-40) and the Great Commission (Matt. 28:19-20):
We are reaching out to connect people to God and others.
Our Core Values
Planned values are descriptive words that reflect the values, attitudes, styles and beliefs that help fulfill our purpose. We try to incorporate these key approaches into all we do.
Biblically-based: We live by the Word of God.
Foundational Prayer of Faith: We believe that connection with God through prayer is essential. Prayer is fundamental to our faith and guides everything we do.
Real Worship: We believe worship should be Spirit-led and genuine and is central to how we live. We worship God in Spirit and in Truth.
Spirit-Led: We seek to be empowered by the Holy Spirit, inviting Him to work in us individually and corporately, following His lead.
Lifestyle of Discipleship: We live every day to be more like Christ and to help everyone grow in a relationship with Him.
Relational-Authentic Fellowship: We center our ministry on creating authentic connections to care for people, develop strong relationships, and encourage accountability.
Reaching the Next Generation: We create an environment for children and youth to discover a life-long relationship with Jesus.
Global Missions: To spread the Gospel and raise up believers in Christ by equipping, sending, and going globally.
Generosity: We are lavish with our time and resources so we can show God's love as we meet needs and serve our community.
Our Purpose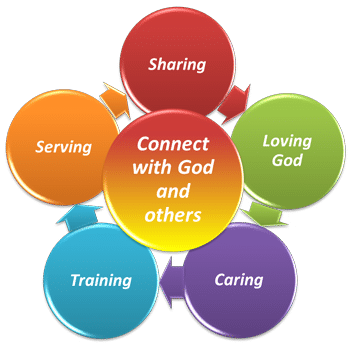 1. Sharing God's love through community and world evangelism (Acts 1:8).
We are preparing and encouraging people to share Christ, to be ready to ask the question of commitment and to celebrate in the regular occurrence of people making decisions for Christ.
2. Caring for each other through fellowship (Colossians 3:12-17).
We are seeking always to develop new relationships, to deepen acquaintances into friendships and to spiritually support one another in an atmosphere of acceptance whether one-on-one, in small groups or in corporate gatherings.
3. Loving God by responding to Him through worship (Acts 2:42-47).
We are providing opportunities for Spirit-filled and Spirit-led praise, worship, and prayer and personal and corporate expressions of devotion to God in a context of order and fittingness.
4. Training people to obey God through discipleship (Matthew 28:19-20).
We are helping people to see the reality of God, develop the basic disciplines, values, character, and commitments of a true disciple, and help them be disciplers and mentors of others.
5. Serving God through active ministry (Romans 12:1-8).
We are helping people to discover, develop, and use their God-given gifts and abilities to minister through teamwork and accountability and inspiring them to serve others in their personal sphere of influence.
Our Fellowship
Hillside is a member of the Assemblies of God with 69 million adherents in 249 countries around the world and growing. Our fellowship began in 1901 when a contingent of people from many church backgrounds began experiencing a revival of the baptism of the Holy Spirit as recorded in the Bible book of Acts. Other supernatural manifestations of God, including prophesy and healings, also took place. With this revival came a great evangelism thrust and commitment to share Christ with the world. This movement came together in April of 1914 to form the Assemblies of God.
We are protestant, trinitarian, evangelical, and pentecostal. We are a member of the National Association of Evangelicals, the Pentecostal and Charismatic Churches of North America, and the Pentecostal World Fellowship. We are not affiliated with the World Council of Churches or the National Council of Churches.
Statement of Fundamental Truths
The Bible is our all-sufficient rule for faith and practice. Click the links below to see the complete statements with scriptures. (Full text in English or Spanish.)